Hello people,
I think i've seen someone on the forum talking about something like this, but I searched for it and could't find.
I put the same name on the images of animations to leave organized and easy for understand. Because they have the names standardized obviously I separate them by folders in my project. But today I realized one of the animations was loading another animation of another object! They have the same name of the animation with the same name of images. The resources are:
This supposed to load the images of the Planta Atiradora, but it's loading the resources of Resíduo!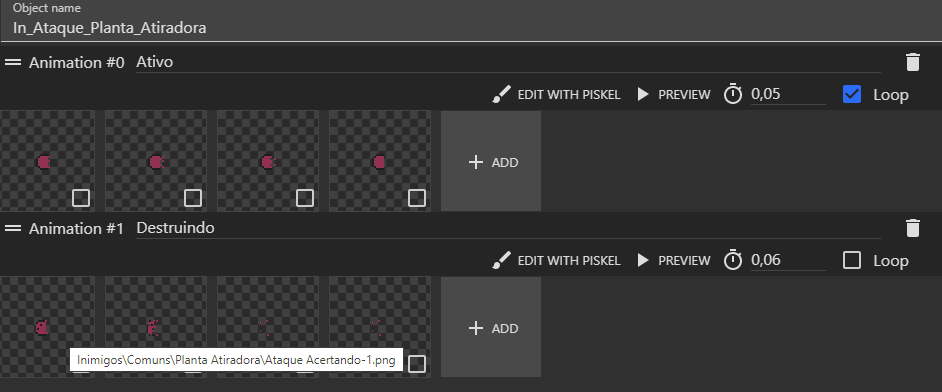 The problem is not on events. I can delete everything!, create just a new object with another name to the animation and it still happen. I tried too without sucess delete from resources the imagens of Resíduo (Planta Atiradora starts to load the correctly images) and put again in the game on the animations of a new object for Residuo, but Planta Atiradora starts to load wrong images again.
I could't reproduce it on a example. And since all my images have the same names and only this one have this issue, I probably did something specific with "Planta Atiradora" and "Residuo", but I have no idea what it was.
The only way I finded to fix this is changing the name of images. To prevent this happen again, I'll do it to all my images.