I am grouping several objects for the same code with the objects groups editor. I would like to know if you have had any conflict with the code when you introduce some conditions or action for a specific object of the group inside of a group event. I share a piece of the code for if you noticed any wrong…
Explain:
I choose all the objects of "RayoBonusGrupo", we have done it above and it should not be necessary. I do not understand why but inside a "group" event if we start to refer to objects of that group in certain actions, such as when creating "RayoBonusCopia", unwanted things start to happen. In short, in a simple way choosing all the RayoBonusGrupo objects, I repeat it was not necessary since we have done it above, I have managed to deal with the conflict generated by having made a complex group event.
Watching this code is necessary pick all the objects in the down red circle again to refer all the instances of the same object? I think it is not necessary because in the up red circle already I have done it…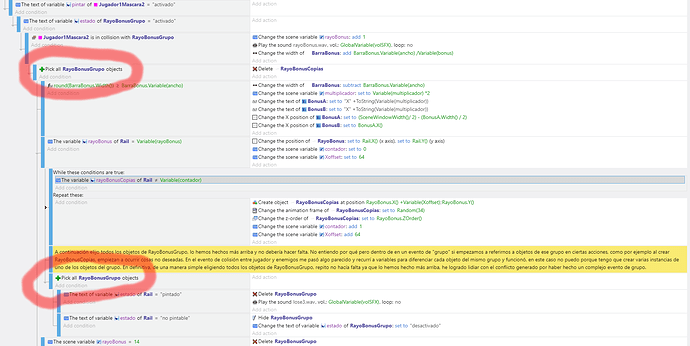 Maybe is a conflict because I picking all the instance of another object in the hidden code, there is an event minimized.