Hi all,
I am trying to create a quiz-based multiplayer app.
I have been following Gemdev's video ( How to Create an Online Multiplayer Game in GDevelop 5 : Peer-to-Peer! [Easiest Way]) as much as I can.
However, when I activate a local server, no ID is generated for me.
As a new user I am only allowed to upload one piece of media, so I have combined my screenshots: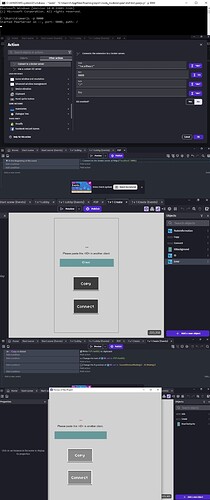 The peerserver appears to be active as it should
External event "P2P" with information corresponding to the local peerserver
P2P external event linked to (start of) lobby scene, as Gemdev shows it in the video
Create Scene
Create Scene Events
If I preview, no ID is generated.
I have been trying for three days on two different computers and can't seem to figure it out.
Does anybody know what I am doing wrong or what I am missing?
Thanks.