While previewing my game, I've begun to notice that after about 5 minutes (or possibly a little longer), the preview window will turn to a black screen. I tried using the debugger to see if there was an issue that it would point out, but once the preview window goes black, the debugger says there isn't a preview running (and therefore nothing to debug) despite the black preview screen still being up. I tried starting a preview and just letting the game sit idle for 5 minutes, not making any inputs or changes. The preview window still turns black after 5 minutes or so, despite me leaving the game sit idle for that time.
Does GDevelop have some kind of timeout for the preview window or something that I'm not aware of? I couldn't find any mention of such a thing on here or in the documentation. Or are there certain things I should be looking for in the dubugger while the game is running and the screen isn't black? If not, does anyone have any ideas as to why this might be happening so I know where to start looking for issues? Thank you in advance. I know this is a pretty vague explanation, but I'm seriously becoming concerned if my game won't be able to run for more than 5 minutes without the screen turning black.
EDIT: I opened the console (Ctrl+Shift+I) while the game preview was running and when the screen went black after 5 minutes, this is the message that was showing in the console: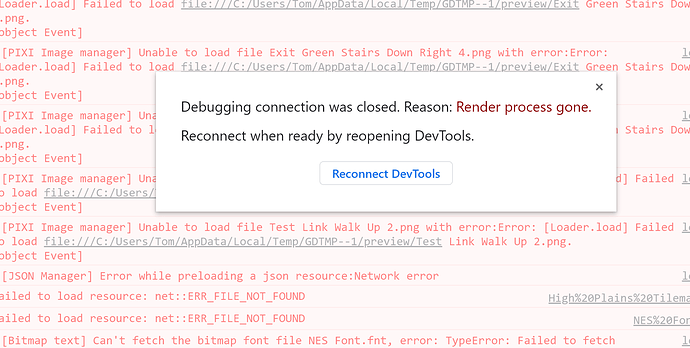 What exactly does "Render process gone" mean?