Hi,
it sounds simple but I cannot fix this issue with a simple slieder:
Have a silder where player can set his own difficulty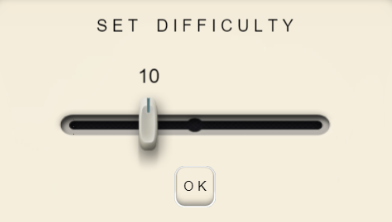 I would like to hear a sound as soon as the slider is moved and every time the value changes.
How to trigger sound when DifficultySlider.Value() changes?
When I set "DifficultySlider is beeing dragged" I can hear sound once when clicking on slider but not every time when value change.
The difficulty user had previous was stored in a variable.
Now, when I only set "variable ≠ DifficultySlider.Value()" and the variable has the value 10, the sound plays only at 9 and 11, every time slider passes this value.
Any idea how to solve? Thank you