Hi guys!
I'm sorry to bother you with this question but I can't figure out what is wrong. I've read some of the threads talking about the same issue but I can't seem to get this basic problem fixed.
I've created an enemy "SmallSlime_Green " and a "vision" box (a sprite) : "SP_Enemy_CAC_Vision". I've used the "stick" extension to link them together.
I've successfully coded them to "patrol" to and fro. When they are patroling and the player is entering the vision box (in yellow), they change the animation and they go toward the player to attack him.
It works well when there is only one instance of the enemy.
When there are 2, things don't work as I'd like : when the player enters the vision box, the 2 enemies change their animation and move toward the player to attack.
I'd like them to behave independently.
I've tried using the "for each instance" block but it didn't make any difference. Perhaps I didn't use it at the right place…
Here is a screenshot of the code that set the boolean "NR_detected" true. Once it's true, the enemies attack.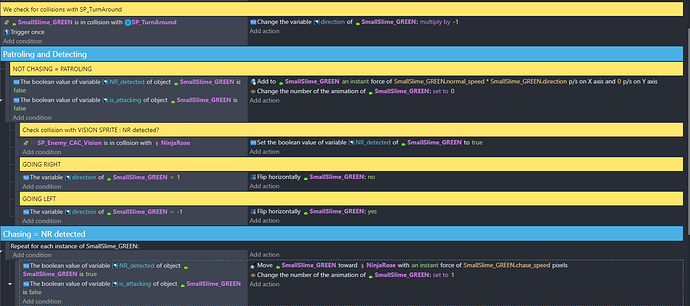 Truth is, in spite of reading about the "for each instance" block, I don't really understand what it does…
Thanks for your help!