@4ian, It has come to attention that we don't currently have a Wikipedia English Page.
Source:GDevelop — Wikipédia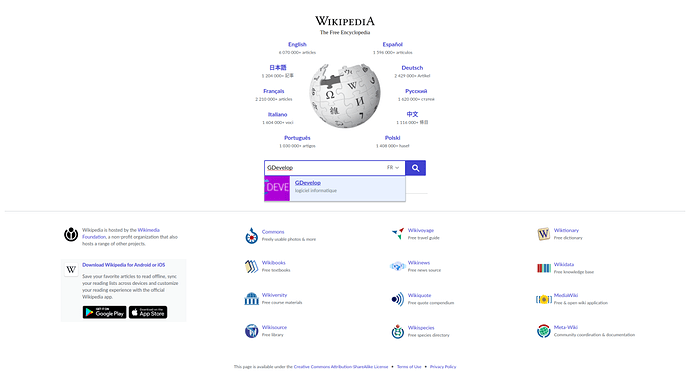 Source:https://www.wikipedia.org/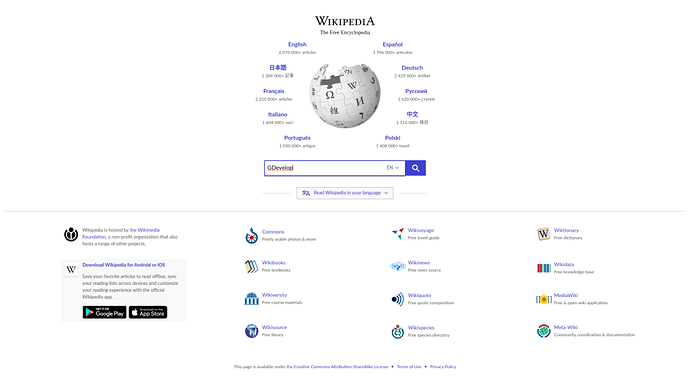 I wanted to take the initiative to post a page for review but I got to know that @Bouh already submitted a draft, however, it got rejected GDevelop - Wikipedia.
@Silver-Streak suggested that we take some ideas from Construct (game engine) - Wikipedia or Stencyl - Wikipedia.
he also mentioned that "Reliable sources are being called out because you've got quotes from the author without any sources to the quote. That's a common method of misinformation on Wikipedia, so either those items likely need to be removed, or 4ian's quotes need to be linked to an article somewhere that has them."
Silver Streak's Recommendations:-
Remove:
Origin of Logo section (Without a reference for this, It'll keep getting flagged)
GDev App section (should just be part of the feature list)
Quote at the top of the History section
The info around the forums and discord.
Add:
To the features section, add a line that states something like "Web and Local client - GDevelop has a both a local client and a web application to allows for game develop ment directly from the browser. The web app is based on the GDevelop code and has a simpler interface but with the same internal power."
Change the Compilation of games section to "Supported platforms". Keep your first line. change the second line to bullet points of "Native Platforms" "HTML 5" with the info you have already.
Add reference links to the first and latest builds from github to the history section
What do you think? What more should be added to make it look unique?