Hello,
I'm having some fun discovering the dialogue extension with yarn, and i'm planning to use it to replace the actual homemade dialog engine i'm using in my game Swamp for easier translation management and productivity, since it seems the extension become more and more stable. The demo uses actually 6 differents languages, the full game might have even more
To discover the extension, I'm working on a test project that i plane to release as an example, but i'm facing a strange game breaking behavior, so i'm reporting it here to discuss, before reporting it on github.
The issue occures when i use nodes containing only one option (=one answer):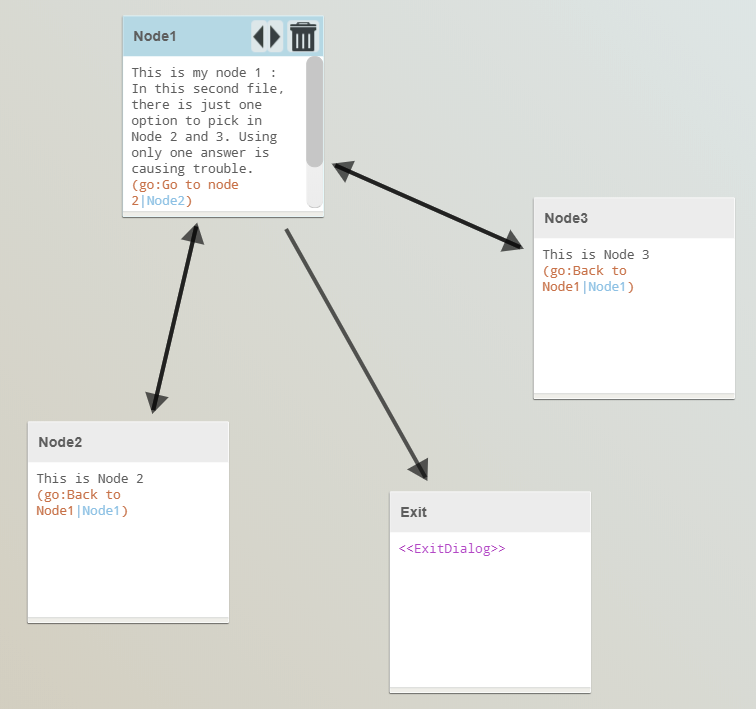 When i reach nodes containing only one answer, the text line plays normally, but when the "clipped text has completed scrolling", the text of the current node imediately disappears, and the first node of the tree is playing again instead.
it occures only (and everytime) when i use a node with a single option/answer.
Am i alone ? Fact is i need to use node with single answer, and i dont think it's a normal behavior… But maybe i'm missing something else ?
Here are the files of the project : http://s000.tinyupload.com/index.php?file_id=40659194908272531636