Looks really good, great art style. It takes alot of time to do all the drawing i guess.
Thanks!. Yes, the graphics is the part that most time require. Even by using Blender to make animations with 3D models, costs a lot of time. Making so many frames are totally out of reach for a single developer to make them by hand.
On the other hand, backgrounds are drawn mostly with Photoshop, and now I'm making the comic panels that tells the story between levels, and they are also a lot working hours. But as we say in Spain, 'Sarna con gusto no pica'
This looks really beautiful man, well done.
Hi! I've just released the demo for 'Gods from the Abyss'. It contains the first two levels of the game, and the complete game will be ready (I hope) very soon!
You can get here:
IndieDB
or here:
itch.io
or even here:
GameJolt
Hello again! I've forget to post it here, sorry, but better late than never.
Here is the trailer for 'Gods from the Abyss' , take a look!

I'm very late, but congratulations!! I'm amazed you are still working on the game after all this time <3
Est-ce que c'est possible de sortir ta version démo pour Linux ?
Merci beaucoup

I'm tweaking some gameplay, so I want to release a new demo, but I don't use Linux, so I can't test if it works as intended. Anyway, I can build one for Linux and if nobody complains, assume it works fine

Génial, je veux bien tester et te faire un petit retour !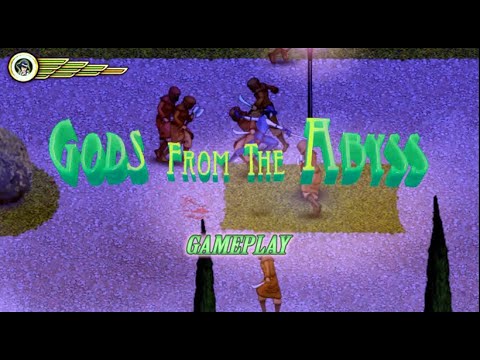 Hi! Facing the end of the year very soon, I think the release of the full game has to wait a bit longer. Now I'm thinking about adding a new extra level, and I'll start approaching some publishers, but if I don't find any, I'll probably release the game on Steam on my own.
Here's a new demo , available at IndieDB, itch.io and GameJolt, and now there is also a Linux version. It has the same first two levels as the previous one, but there are some fixes, thanks to feedback from some nice people:
You can now run up and down, not just left and right as before.
The speed of attacks and enemy response are better synchronised.
If you throw an enemy, there is a chance that it will hit other enemies.
Many bugs have been fixed, especially in two-player games.
The game texts are now not hard coded, so it is easier to add translations. At the moment the game is in English and Spanish.
And now the game remembers your selected options!
And I'm adding a video of the game! If you like it, try the demo, and if you enjoy it, look for the full version - I hope to release it very soon!
Nice to know you managed to work on the game this far. I'll be leaving another comment on itch.io when I get to play it

Hi! Happy ending year! I've uploaded a new version for the demo. More little bugs fixed, and a new camera zoom that allows a better two players view, and that also gives a bit more space view for one player session. See ya next year!
Finally! I've managed to launch 'Gods From The Abyss' at STEAM. You can download the DEMO, and if you like it, don't doubt in whislist it! The complete game will be available very very soon!
Congratulations! What a journey. I didn't play the game already but I think it's amazing that you sticked to your game and managed to get it done. Thumbs up!
Hello there! Now the demo of 'Gods from The Abyss' is available at gd.games!