Hello Im @modded a game developer and your next forum helper "and I am a pigeon"
Welcome, modded!

How long have you been using Gdevelop 5?! Are you already working on a project?
mmm, a lot, I only learned from @Emicraft, if im working in a project is no in this moment
thx rasterisko, thx so much


Hello @modded. Good to hear that you're a pigeon.
Oh btw, I'm a duck.


⠀⠀⠀⠀⠀⠀⠀⠀⠀⠀⠀⠀⠀⠀⠀⠀⠀⠀⠀⠀⠀⠀⠀⠀⠀⠀⠀⠀⠀⠀⠀
I am a person whose hobby is making games
Your profile description is false. It should say "duck", shouldn't it?

I mean, Epicsleeper, this thread got to me too. Back in February I was sooooo tempted to @ this Gdevelop user: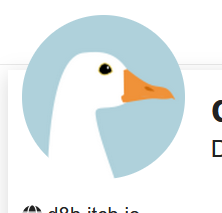 Sure. I should probably change it.
@Bubble Hahaha bringing the family back together

This little guy would also fit in perfectly:
Before this thread gets closed, haha,
@Epicsleeper
I just want to say:
Oh my goodness, you found one of Mixen's baby photos.
@Muzan you need to put this as pfp
hmm
I wonder if I should. But I'm Muzan now. What shall I do?
thinking noises
Hi everyone!
I am new here too