Hey guys. After nearly a week of development, I have finally published my first demo of the game, "Kitty Biscuits!" It's a game where you play as an orange cat running around to eat as many biscuits falling from the top as possible to earn a high score. The current version of the game is a demo with the Score Attack mode the only mode that is currently available to play.
Here's a video of my development progress for the game: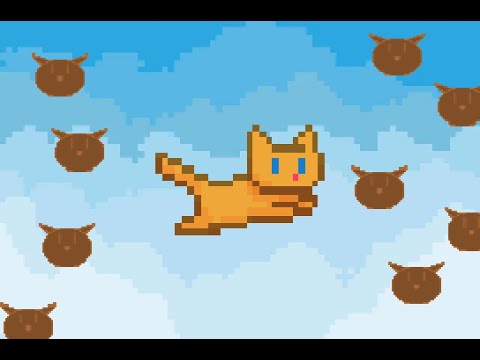 Here are the things I will add in the final version of the game:
Score Attack: Make it so that the fall speed of the biscuits are randomized once the player earns a certain amount of points. Biscuits will also fall faster later in the round as well.
Time Attack: Collect as many biscuits within a specific time limit. There will be three different time limits to choose from: 1, 3, or 5 minutes.
Bad Biscuits: Dodge as many Bad Biscuits as you can. Collect three, and you lose!
??? mode: It's like Score Attack, but regular and bad biscuits fall more frequently, and they fall at a much faster pace than usual. Mode is unlocked when the player reaches a certain amount of points in the above modes. (I'm not 100% if I'll add this in the final version of the game, though.)
Make the instructions box look better by adding sprites in them.
Allow players to mute the music.
Allow players to pause the game.
Known bugs:
Cat animation stutters from jumping to idle animation when the cat lands on the ground.
If you guys have any feedbacks for the game, I appreciate it. Thanks!
Update: (7/17)
Game now has a thumbnail on GDevelop.
Made Score Attack harder by adding biscuits that fall at a faster speed.
High score works properly now.