I'm running:
Mac OS High Sierra V.10.13.6,
2.5 GHz Intel Core i5,
16 GB 1333 MHz DDR3,
Intel HD Graphics 4000 1536 MB
I am seeing odd behavior, freezing, and multiple needs to restart the GDevelop5.
-As an example, when selecting an object on the scene, the object will show a black square but no resize options. This requires a restart in order to fix it.


I believe the above bug can be created by selecting an object in the scene. Then, right mouse click or click on the object. At least it works for me.
-Right mouse click or + click gives the following scene properties popup: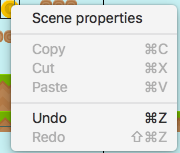 The docs indicate it should popup object properties.
-The window resize icon sometimes doesn't work on the lower window corners.
-Another problem, when I close the GDevelop5, the icon sometimes remains showing as open on my Mac's dock. If I try to reopen the program, I get the message that the program is closed. This needs a force quit. This situation actually caused me to have to do a complete shut down and restart. I don't see that very often!
Right mouse or click as well as trying doesn't work to bring up the object properties box.
I've now found a way to recreate a few of the bugs on my Mac. I'll post more if or when I can give a concrete way to reproduce the errors.