Another fun minigame!!!

But playing the second and third time there were bugs in the position of the stones:

Bravo
Super bien fait !
Exactement ce que j'aimerais faire comme jeu !
very thank you bro

Try now

If you know hou to work with GD it is easy to make game like this

Thank you


But have problem GD always full of bugs

Played it twice and it looks perfect! If I experience any more problems I'll come back here. Your minigames are in my favorites now!

GamMen!
It happened again. But apparently it's rarer to happen after you've made some changes, because it happened in the fourth time I played (I haven't done 10 yet! haha)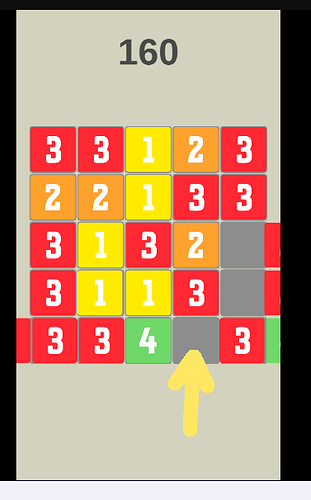 I put an arrow where I clicked when it generated the bug. I don't know if this information can help you.
For fall of blocks I use small trick
PlatformerObject and Platform behavior.
And now this problem is from behavior.
With construct 2 or 3 never have this problem.
I think too this is bug on GD.
When there is contact of PlatformObject with Platform behavior is have this bug.
And i also use disable on behavior.
But when touch or click of block is crazy behavior work like physics. Here is full of bugs.
And by the way, all my games are made only from the phone with the online version of GD
Try to play from the phone.
Its very hard to make 10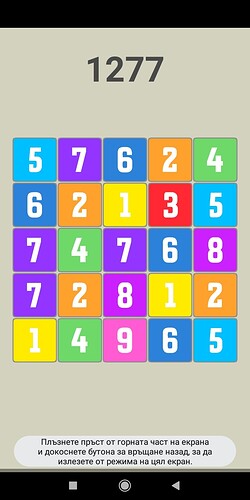 When you do number 6
Blocks fall number 1,2,3,4
When you do number 7
Blocks fall number 1,2,3,4,5
When you do number 8
Blocks fall number 1,2,3,4,5,6
When you do number 9
Blocks fall number 1,2,3,4,5,6,7
When more than number 10
Blocks only number 10 delete
No, the problem will be because you are using the wrong behaviour for what you are trying to achieve. It's not a GD bug.
That aside, you've created a neat little game, that's actually trickier than what it appears at first glance. Is this an original idea you came up with yourself? Even if not, you've done a great job implementing it. well done

I made some corrections.
And now is it working normally or not ?
Original game is Get 10 Ultimate.
For you game is working normally or not ?