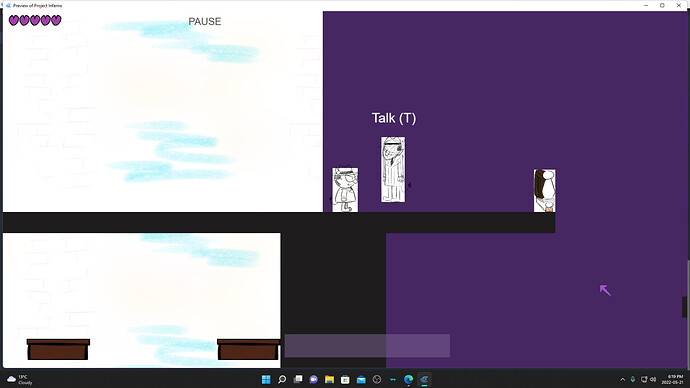 So, I'm trying to make my first Boss Battle and I'm using this to record and plan my process. It's going to be several steps, so this should keep me focused and whelmed.
The shorter demon is Big Diablo and the taller guy is his little brother, Hammon the Hitman. He offers Diablo help with a situation in exchange for a favour. What I want to do is:
Make Diablo able to talk to him before fight X
Give the option to either fight or do the task X
Put in sounds for dialogue and fighting.
Task:
program the cursor mechanic part of the task X
program the AI enemy part of the task X
program and write a second dialogue for after the task is done
Fight:
program a spawn attack to make hazards appear above the player as they run X
draw short Boss animations for moving, dodging, special ability, hurt, and defeat X
Make walls appear and disappear during and after the battle so the player can't just walk out.