Making another Dev Log for something I've been trying to program for awhile.
Here's what I have:
I have a 2D Puzzle-platformer. It's a linear side-scrolling game with several levels/chapters. It's in a mansion and the levels are split up between the different parts of the mansion.
Here's what I want:
I want to make my game have three game slots that the player can choose from. the player should be able to save to the file while they play. I've already made my game have multiple rooms, now I want to try and make a checkpoint system.
Here's what I made: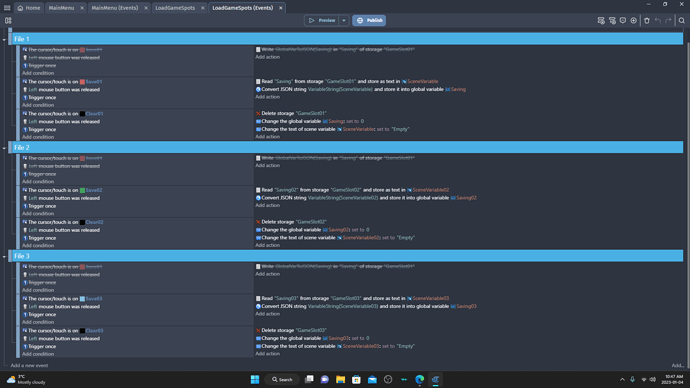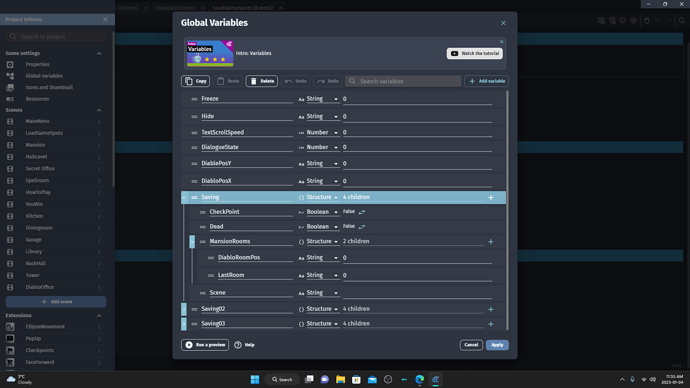 The first image is the scene where players can select the Load Game option. The black square are going to be the Delete File buttons. They're going to be clickable.
The second image is the code I have so far. I followed this tutorial to set up what I have so far. I disabled some of the programming because I'm going to try and see if I can use that for the checkpoint system as I continue programming this feature for my game.
The third image is the Global Variables I currently have for the files. It'll likely grow as I work along this.
I'll make updates here on my progress because I haven't found many guides for this.