01001110 01100101 01110111 00100000 01000001 01100100 01110110 01100101 01101110 01110100 01110101 01110010 01100101 01110011 00100000 ?

Is the screenshot supposed to look messed up or is my computer having problems again?
Your computer is fine

Love the hidden message

Everyone!!! NEW ANNOUNCEMENT!!! FINALLY…
I'm happy to announce that I'm currently working on a MASSIVE new update for Miko's Adventures!
There will be new content,
New gameplay mechanics,
New adventures,
New stories to tell about Miko,
Performance will increase OVER 150% from the original released version.
Massive new graphic improvements (Tons of world improvments to the point where I draw all the levels again, game now works in full HD resolution and everything is detailed and sharp now, and a LOT MORE!!),
Basically it will be a whole new experience. (Seriously the update notes will be massive when it's released)
The update will most likely move the game from a free-to-play state into a paid state (a commercial title).
I just want to say that this was not possible without your amazing support on the game over the last 8 months and still to this day the support has just been amazing on the game, I'm honestly grateful to be in a community like this one


Expect some new cool updates soon!


Also … pssssst!!! here is a sneak peak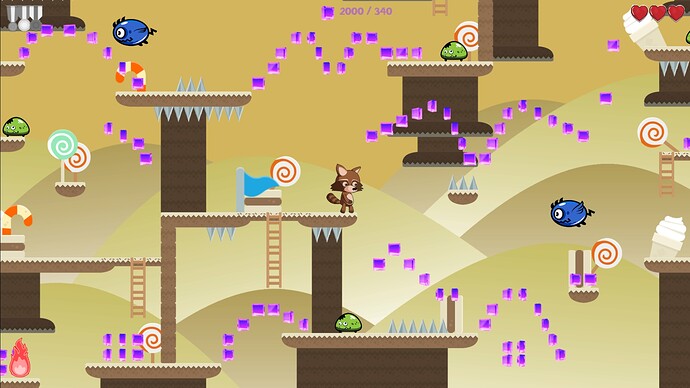 Everyone, My discord is finally here, hop in and let's have some fun!
There will be a lot of cool new stuff there!
Just because I hit 1000 followers on twitter: https://twitter.com/CorianderGames
I decided to celebrate with you this amazing moment by sharing with you screenshots of the brand new





"Miko Adventures (puffball update)" finally in 1080p





New enemies, mechanics, story elements, massive new world to explore (will be a surprise!!)
There will also be:-
1- Massive graphic improvments
2- Performance increase (up to 200% !!!)
3- More puzzles
4- A lot more diverse levels
5- More secrets to discover
.
You'll love it! Miko Adventures is being built with love just for you

So I decided to post game dev stuff everyday for the next 5 days then when I do that I'll go for 10 days and so on until I can do it everyday, it's really hard to keep it up with college and other stuff but I'll do my best for sure.
.
Day 1 out of 5
Was working today on level 6 in @MikoAdventures
Fixed a lot of collision problems.
Fixed some assets.
Enhanced the physics system in game.
Optimization to the level.
A lot more small fixes.
Good day

Day 2 out of 5
.
Today was about external events in gdevelop.
Did a lot of cleaning.
Fixed a problem with mines not working well.
Fixed bugs with some of the movable objects.
Still a lot to do!
.

You should use tools like gamejolt. They have a devlog feature made specifically for things like that.
@arthuro555 Thanks for the suggestion and yup it's in my to do list!
It's just too many social media stuff to care about you know … takes a lot of my time! also I'm not active in gamejolt so yeah…
Day 3 out of 5
(I tweeted this one yesterday but my internet couldn't let me share it here so yeah, sorry

).
Now check this one out, you'll like it!
Also let me know what you think so far?
Feeling really sick (have a bad cold) but I can't stop working.
…
Day 4 out of 5
Was working today with this little guy.
A lot more physics bugs fixed.
Lot's of graphical bugs fixed.
Level 6 is almost finished.
In case you missed it, I uploaded the first look inside Miko Adventures (Puffball update)
.
Check it out and let me know what you think?
.
Your feedback is always helpful : )
Bonus screenshot!


Got a little better so I decided to work on this while recovering!
I guess that's day 5 out of 5 (Yay first milestone) now let's go for 10 days!

Day 6 out of 10
Today was all about graphics, colors and UI
UI looks pro now and a lot easier to understand when inside a level.
.
Good day!
So here is a full comparison between Old and New HUD in Miko Adventures "Puffball update"
.
Would love to know your thoughts on this one!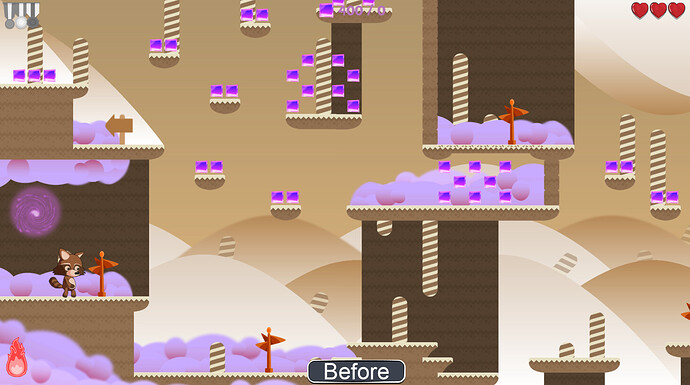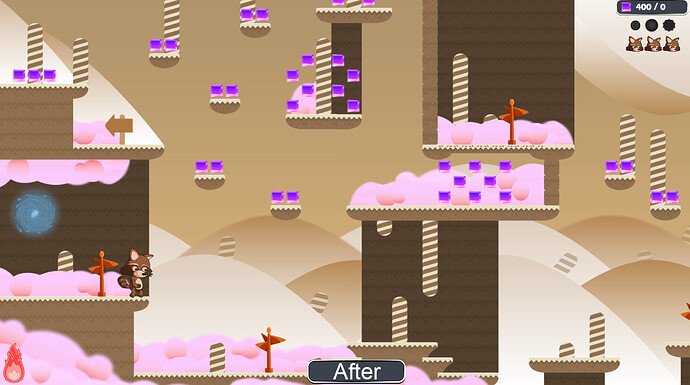 Because You're my goal

: Because Your experience, your feelings matter so much to me!
Press "C" to hide HUD in game anytime for full immersion in candy world : )

Added Smooth Camera "feel really amazing"
Added a cute little transition when you enter a level.
Fixed some bugs with the diamonds count in all levels.
Fixed "bugs - added a lot more details" within level
.
Next I'll work on the tutorial and will try to make it look a lot more pro and easy to understand.
Then I start re-creating level 7 from scratch which is going to take over a week, then I can say I have almost 55% of the game finished!
.