Hey all,
The number of community extensions is starting to grow! And this is great!


For the next version, the search and the display of tags will be improved (using the same kind of interface as for the "Asset Store" - and the "Resource store" for the web app):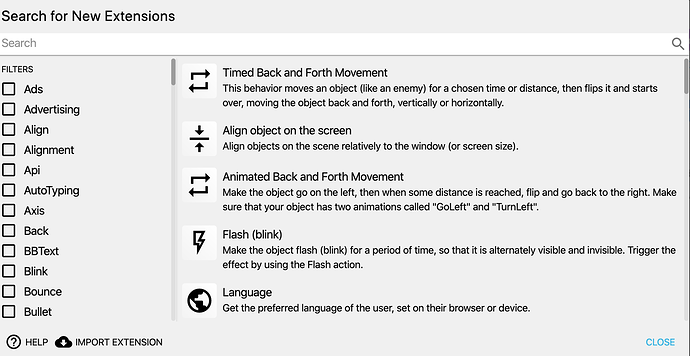 As more and more people start to get interested in making extensions (thank you!), a Trello board was made (thanks too, great idea!): Trello
I'm still unfortunately a bit of "bottleneck", as I'm trying to review all extensions. This is to keep a high quality bar:
ensure the extension has a good reason to be there.
ensure the events are as simple as possible.
ensure the best practices are followed (use prefixed scene and global variable names).
ensure the description and names are well chosen, clearly explained. Ensure all sentences are correct, all parameters are shown, everything is following the same convention as existing actions/conditions/expressions.
This is taking a bit of time, so I'm wondering if you have ideas about how to speed up this? Should we set up some kind of "community review" of extensions? Maybe a checklist that anyone could follow to ensure that it will pass the "4ian review"?

Let me know if you have ideas. Another one would be to make it easier to publish exensions, but have a list of curated extensions selected and pushed forward in the UI.
Overall, I'd really like to ensure extensions are growing faster without me being a blocking point (and at the same time, ensure extensions are "curated" and offer all a great experience to users).