Hi, I've seen mention of While, For each and Repeat here in the forums but didn't know how to access them. I now know it's from right clicking the condition and selecting add other. Or using the event add icon which I hadn't ever done.
The wiki explains a bit about each of these things but not how to actually access them. And yes, the events wiki page does show a picture of the add an event icon with the different types listed. But there's a good chance that by the time new users need these types of things, they have forgotten the add icon image from the events wiki that they read on day one. Well I had anyway. But this picture is how I eventually found out how to find them.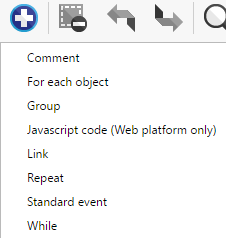 And when I was reading the While wiki I got even more confused in my search for how to do it because the picture shows a trigger once condition and not a While condition. So then I wasn't even sure if While was an actual thing and was I looking for something that doesn't exist.
Here is the picture from the While wiki page:
https://wiki.gdevelop.io/gdevelop5/events/while?rev=1595604315