So I'm playing around with the new 3D features, and have run into an issue when combining 2D and 3D elements. I'm using 3D boxes for the the floor and walls, and a 2D sprite with 8 direction animations for isometric angles. The problem occurs when I tilt the camera down from 0 degrees (looking straight down) to 45 degrees for that isometric perspective. All the 3D elements render no problem when I do this, but as the angle increases, my 2D sprite gets cut off along the bounding box of the camera as if it were pointed straight down at 0.
I sketched up a quick visualization of what I THINK is going on. The black box is the starting position of my camera. The yellow box is what the camera sees after being tilted. I'm going for 45, but the problem gets worse the more I tilt, with the cutoff being close to the top of the screen on lower angles like 10 and 15, and off the bottom of the screen on higher angles. And the orange circle is my 2D sprite being displayed ONLY within the bounds of the original camera angle of 0. Adjusting the Y position of the camera only moves my sprite deeper into "not rendered" territory.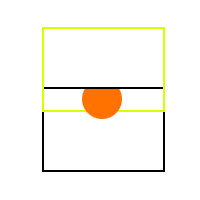 What do you think? Is there a solution here? Or am I getting ahead of myself with this new feature?