I have created a game with a single scene called 'Level 1'. I have also defined some scene variables as well. I have exported the game as HTML5.
I am working with the index.html file in the exported game. I am running a simple server in vs code to test the game. The index.html file has the default script to create a RuntimeGame object and start the game level. When I run the game everything works as expected.
My question is how do I access the scene variables in the script?
Below is a snip of the script section in the index.html file. I have added some code to this.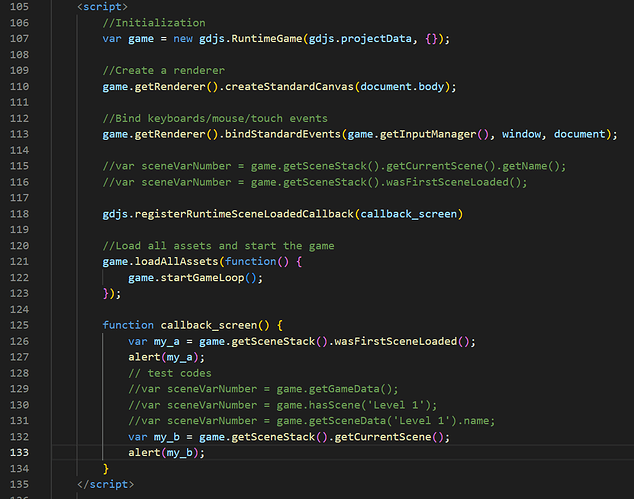 So far I have tried to
access the SceneStack of the RuntimeGame object and then get the current scene and tried to get the variable but this does not work. This return a Null;
var my_b = game.getSceneStack().getCurrentScene();

var sceneVarNumber = game.getSceneData('Level 1').name;
This does work and returns me the name of the level.

game.hasScene('Level 1');
This also works and returns true.

I taught that the scene might not have loaded when querying for the variables so I registered a callback function to let the screen load first using
gdjs.registerRuntimeSceneLoadedCallback(callback_screen)
This does trigger the callback function mentioned but when I check if the first scene was loaded inside the callback it returns false.
game.getSceneStack().wasFirstSceneLoaded();
I have been scratching my head for 2 days with this now.
I have read through the entire documentation to find a solution, but no luck so far.
I would also like to get clarity on how the game is set up and run from the script in the index file.
This is what my understanding is
A RuntimeGame object is created.
Somewhere inside the RuntimeGame object creation a SceneStack is created
startGameLoop() loads a scene from the SceneStack and runs it
gdjs is a global variable