Hello again.
This time, I want to create physics like a zipline. I have created a visual demonstration as shown in the picture below.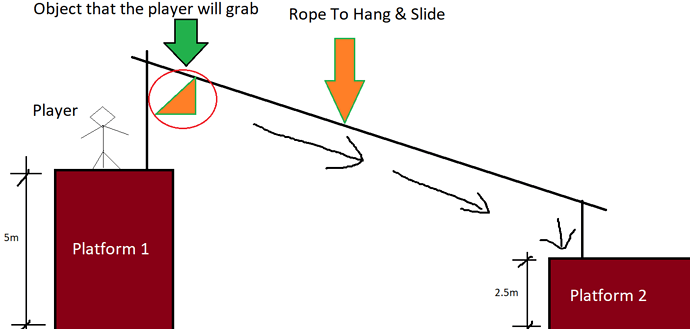 As you can see, the height of the Platform 1 will be 5m or anything like that, and it will be taller than Platform 2 whose height could be 2.5, just shorter than the first platform. There will be two poles standing on top of each platform respectively. And there will be one rope or line connecting each pole vertically or diagonally. Creating these objects is not a big deal, I can create them using sprites. Again, there will be one cloth object attached to the first pole on top of Platform 1. It will be at a certain height to that of the player so that the player will have to jump to hold that cloth object.
Now, whenever the object grabs the cloth attached to the rope, it should slide down way to Platform 2 and land there. The cloth object should slide along the path of the rope without making the player fall down. How can I achieve this?