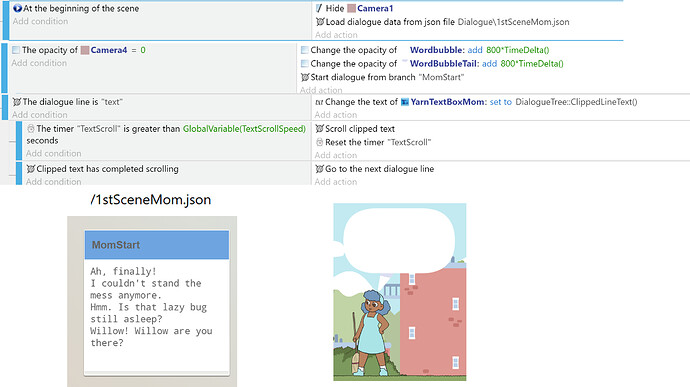 Okay everyone, so I apologize in advance if it's something obvious that I just can't tell.
I have been watching tutorial after tutorial about the yarn dialogue system. I have done my best to program what I can-- but nothing seems to work.
Everything else I've done with gdevelop, I've understood so far, and it makes sense! But nothing with yarn makes sense at All. No matter how hard I work at it.
For example, this is the programming I've done- and all it does is make the text box disappear. It seems to refuse to load any of the text from the yarn file. I can't figure out how to actually load the file into the text box, and this is not the first time I've tried this.
I just don't understand loading the yarn system into the game at all. Please help, I'm very stressed out, and nothing I've found on youtube helps in the slightest-- even with the step by step process, it doesn't click.
Thanks in advance for any help you give!! I want to make this game come to life, and working dialogue is vital for that.