As some people suggested here [Résolu] Diriger le héros vers le viseur, the event editor usability can be improved. That's why we are currently investigating how we can improve it. So, we've begun working on an improvement of the event editor in order to fulfill two objectives : be easy to use for beginners and allow fast/quick editing for more experienced users. We also want to modernize the look of the events : by using simple colors instead of gradients (flat design).
[size=150]Here what it looks like :[/size]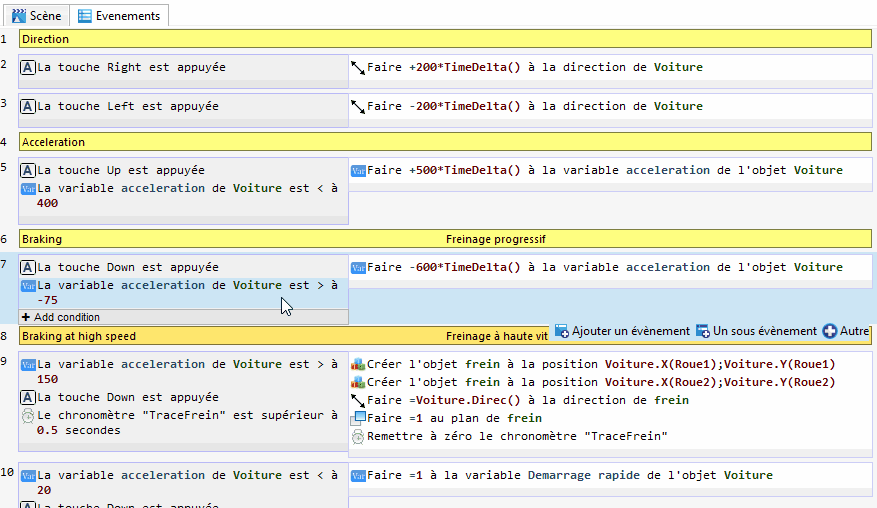 [size=150]Explanation : [/size]
The conditions/actions lists (in each events) have a thick grey line. Moving the mouse over the conditions/actions list (not only the line) extends this line that becomes an "Add condition/action" button.
Currently, the panel with "Add event", "Add a sub event", etc. will be changed next.
The event without the mouse over the list of condition/action :


The event with the mouse over the list (but not over the button) :



You can see that the thick grey line becomes a button (a bit bigger than the line so as it's easy to click on it).
The event with the mouse over the button :


The button changes color.
[size=150]We need your opinion on this because it's difficult for developers to see how a user really uses the software.[/size]
[size=150]For the curious : [/size]
You can test the current state of this mock-up by compiling GDevelop from the feature/improve-event-editor Github branch here : github.com/victorlevasseur/GD/t … ent-editor
Note : this is not a stable version (it's the base of the future v4 with the event editor modified) and using your projects with it will make them incompatible with the current GDevelop version
Thanks.