Hi there! I am busy making a game for a project and needs to be done soon so i beg for your help. I am still new to Gdevelop as this would be the second game i'll be making. I have looked through all previous forms and tested every single one but to no avail.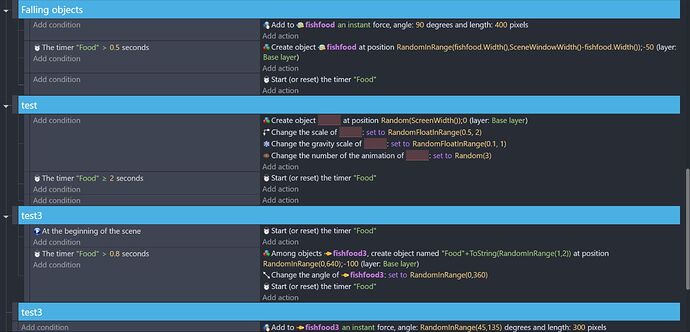 Here's a picture of all the tests i've done trying different ways of falling. The main one working is the "Falling objects" but it only falls once and nothing else just one fall thats it. The second "test" floods my screen with 1000 sprites and the third "test 3" only falls once and shakes violently (Keep in mind some of these i just tried copying from previous forms)
I tried several ways for it to maybe loop and let it fall more than once and randomly but i'm so clueless.
If anyone knows please let me know!!