Hi, I'm trying to do a plataform game and I wanted to make my character use a slingshot. I wanted to add an aim feature in which you can aim and shoot a stone to an enemy kinda like angry birds. It works but only when the character is still, when it moves the stone goes flying in the opposite direction.
I'm using physics 2 behaviour for both the character and the stone.
What can I do to make the stone fly the right way?
This are my events: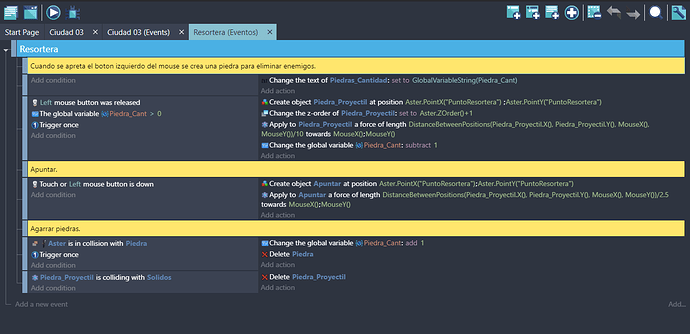 The sprites and variables that i'm using are in spanish but basically:
Aster is my character.
Resortera: slingshot
Piedra_proyectil: Stone_projectile
Piedra: Stone
Apuntar: Aim
---
EDIT: I solved it! The problem was that for some reason I wasn't sharing the same points for all animations. I feel so dumb. Thank you so much to all the people who helped!