Hi everyone,
I have asked a few questions and the help that I received was awesome, so here I am again with another question.
The game I am making is a simple coding game where you program a robot's move and when you press play, the robot will move by following the commands in order.
I now need help finding a way to create some walls that the robot won't be able to go through. The goal is to use pretty much the same setup everytime but change the path that the robot has to go through for each new level.
I have tried comparing the X and Y position of the robot to the object ''wall'' but it looks like the other copy of the wall objects are interfering with this.
I will later add more to it like enemies that you have to avoid, things that you have to pick up, etc… but I think that if I can find a way to make obstacles that the robot can't move through, it will be all that I need to do the rest.
I have attached a screenshot to let you know how it works and here's a link to the game if you want to test it: Robot Game | Play on gd.games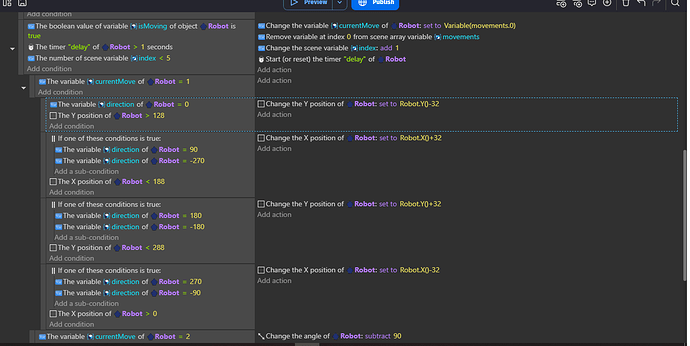 Thank you very much for your help !