I'm trying to rotate an object around another object, which I was able to do using the change Angle function. However, this causes the sprite to rotate as well. Is there a way for me to rotate the object while keeping its sprite facing the same direction? Similar to the "Freeze Rotation" option in Unity for a specific axis.
For example, in this screenshot, I want the knight character to stay upright while rotating around the villager to look as though he's walking around in a circle.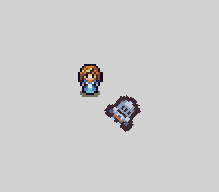 I feel like the solution to this must be pretty obvious, but I haven't figured out how to do it. Any help would be appreciated. Thanks!