Hi, so if you don't know who I'm or what I do, you can check Miko Adventures: Puffball devlog right here: Miko Adventures: Puffball devlog 😮 - #109 by CorianderGames
.
Here is my patreon page: Coriander Games is creating Video Games | Patreon
.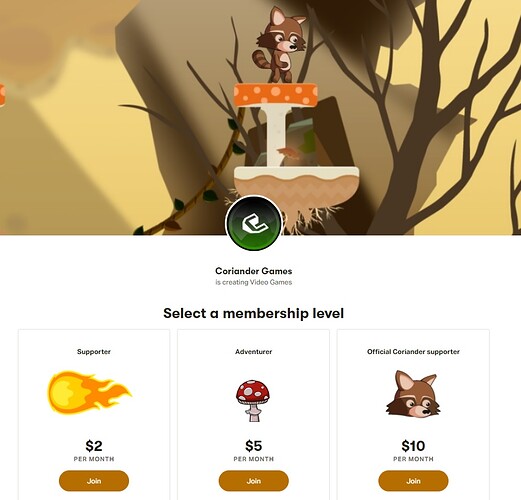 Now … I made a patreon page … why?
.
As a lot of you know, making a game for years alone is such a difficult task (you can say almost impossible to happen) but I have so much faith in what I do that I just went for it and I love it so far and I know I can do it and keep doing it.
.
I made a patreon not just for money but because I really need support to release "Miko Adventures: Puffball" (my upcoming game) in a very good state … hopefully with a good publisher, also I want to release the game on steam and I can only do that with your support.
.
Let me explain what has been happening lately, Miko Adventures: Puffball development is going great and I'm very close to finishing the game but as a lot of you know, development is the easy part of the equation… The most difficult part is
marketing and being out there
, it requires a lot of support, it requires patience and a lot of hard work…
.
And I know deep inside that with your support I can make this dream come true, this will be the biggest release I have ever done in my entire life and it could be the most detailed game released with GD, I've been working on Miko Adventures: Puffball for over 2 years now and it's been…
me …
alone …
just alone …
.
with almost 0$ to support what I do, always looking for ways to make games even if there is no way to do so.
.
Your support will make my dream come true with time, I have so much to give and so many games to create, this is just the start



Here is my official patreon page if you want to support what I do and join me on this adventure that we're going to have together for years and years to come

: Coriander Games is creating Video Games | Patreon
Thank you for always being here