Hi all,
I'm trying to put together a moon phase simulator and would like to recreate the following effect: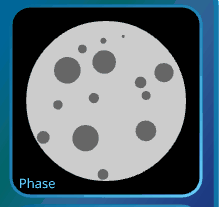 Now, I could do this using an animation, but the number of sprites needed would make this simulator a overly large download. As such, I would like to do this by just graphically manipulating a partially transparent "shadow" over an image of the moon.
Now my first thought was to use "sprite masking" to "reveal" the shadow - essentially by reducing just the width of a circular mask to zero, thereby making the shadow appear (be unmasked) as above.
This works fine until the moon is half in shadow, but in order for the shadow to continue across the surface of the moon, I would need to reverse the action of the sprite masking - in other words, I would need the mask to reveal the shadow as its width expands again.
Does anyone know if the sprite masking tool can be re-engineered to offer a reverse effect, i.e. mask reveals the underlying "shadow" sprite rather than blocks it … or does anyone have another suggestion of how the above could be achieved,
Many thanks … Chris