The collisions routinely fail to change the bullets' life variable, enemies life variable, and scenery life variables, they bounce off, they collide ON NOTHING.
Literally the most unreliable thing ever.
I have tried changing the exact events several times and it only goes from bad to worse.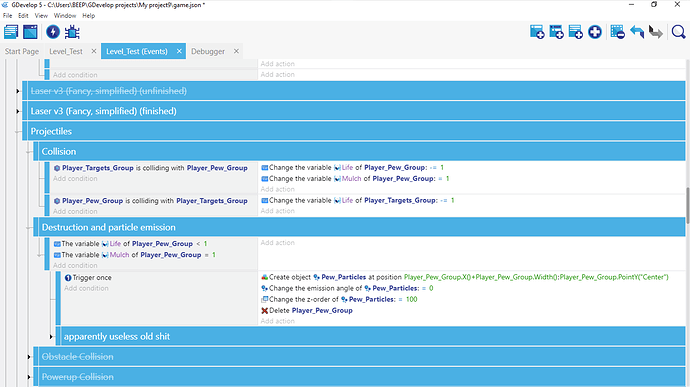 The player pew group:
The player targets group (which is quite large bt works PERFECTLY WELL with a raycast weapon ! ! )
Is it because I'm using groups at all?
With the "bullet" option set in the physics2 behavior it doesn't work properly, without the "bullet" option it works even worse.
What drives me mad is that the collision actually happens, i.e. the little things bounce off stuff, it just doesn't register properly for the purpose of changing object variables!
Seriously, I need some help here, or I'll have to disable physics for bullets and make them use basic collision; because releasing even a demo for a shmup where bullets don't work properly would be shameful.