Hi!
I had almost completed this small board game called Group-It and I want to put it on test stage before giving it the last details.
It's a very basic game with a grid of blocks.
In order to win, every block had to be matched with at least another block of the same color.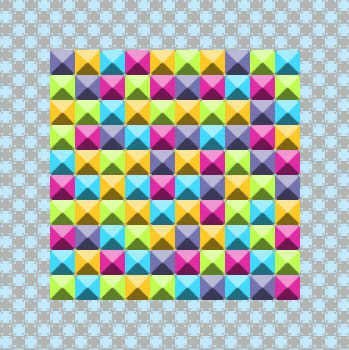 There are just two rules:
The selected block can only be switched with an adjacent block (diagonal blocks don't qualify as adjacent)
The selected block can only be moved to a position where it collides with another block of the same color.
The controls are:
Left click for select and switch blocks.
Right click for deselect block.
When a block is selected the frame that marks the hovered block will change to yellow if it is possible to move the selected block there.
Sounds easy, right? Cool, so give it a try and give me your feedback!

The game can be download from here:
Some features of the script are an algorythm preventing the game to display already matched blocks when it first loads the grid, an algorythm that calculates the positions to where a blocks can be moved and lots of optimizations that enhances the performance of a grid based game (if anyone wants some advice with this topics, I can write some tutorials later).
The game is intended to be always beatable in one way or another, so if someone gets stuck please take a screen capture to check it.
Every opinion about the gameplay and performance (and corrections on my f***ed english grammar) are well received!