I am working in a board game where the board path is not square (as in Chess) neither linear (as in Monopoly or Snakes And Ladders).
The board is arbitrary (not random) and the player would move in any possible direction using arrow keys (Up, Down, Left or Right; 1 square per keypress). Ignore dice roll for now.
The board: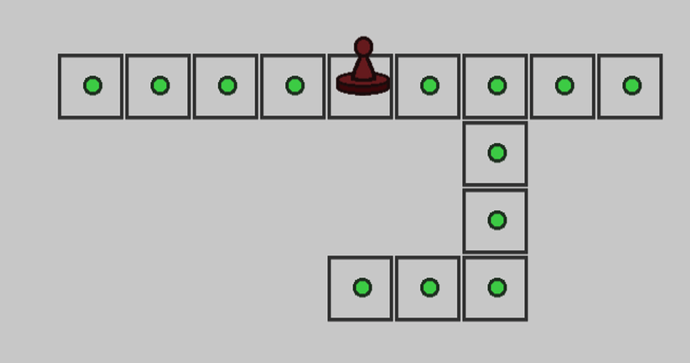 I experimented 2 approaches (expand for conclusions):
1. Assigning each block an Object Variable 'ID' and mapping the ID of adjacent blocks with Object Variables 'Up', 'Down', 'Left' and 'Right'. All manually, during level creation.

Pro: Freedom of blocks size and displacement, therefore freedom for level creation.
Con: Mapping gets cumbersome for large levels and latter addition of extra blocks make things messy.
(Better for design)
2. Using 4 sprites (hidden, permanently attached to the player) to use collision to detect the presence of blocks in the 4 directions. No manual mapping required.

Pro: No need to link blocks, therefore the freedom to add new blocks even in between existing ones.
Con: Blocks size and distance must be constant, reducing flexibility for level creation.
(Better for maintenance)
What else could I experiment with in order to chose the best approach for my game? I still plan to have NPCs moving around in turns by the way.
Thanks!