Hey there! im trying to make a enemy attack that rely on this sentence
-Enemy follows the player
-When reach some distance to player, the enemy stop following the player for x second
-The enemy charge toward enemy position
This is what i made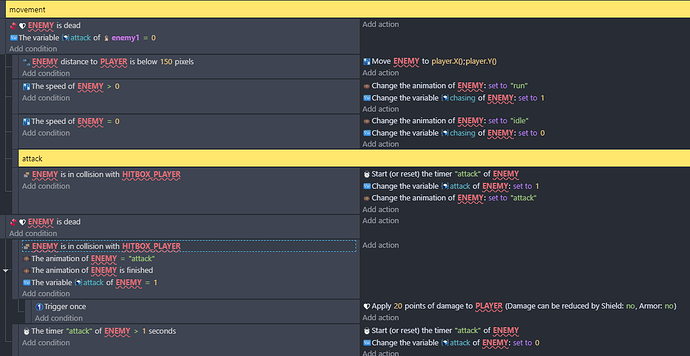 This enemy follows the player, when colission with the HITBOX_PLAYER, it stop and make an attack animation on place inside the "attack" timer, so it last 1 second on place.
Now i need to add the charge sentence (enemy throws itself to the player), im trying with force but i cant reach the goal that i want.
-The hitbox follows the player position, so if i dodge and and the enemy is no longer inside the hitbox i want it to continue with the charge attack.
-When i use force to an object or position (player), the enemy will try to charge but until the position of the object, how enemy can pass trough the player? for example a charge attack with 200 pixels long with direction to the player.
Is there a better behavior to do this?