How do I…
Make a soccer ball have a dust particle effect where the dust is going behind in the direction the soccer ball is going and shows dust from large to small at mid to lower back of the ball?
What is the expected result
Ideally there should be dust that shows up when the soccer ball is hitting the wall and this dust should be for the lower half of the back of the ball's direction when rolling.
What is the actual result
I've tried adjusting the point to center and also to the mid bottom but this only either sprays out dust straight from the center which looks odd or sprays out dust in a weird spiral direction.
Related screenshots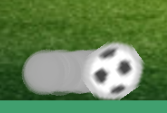 Project files (optional)
Not needed unless you think it's necessary.