Guys, I'll try to identify my problem that I haven't been able to solve for a while. I think it's a silly mistake of mine, but it's already pissing me off
All my rooms are individual objects, and when there is a special item in this room, the game map changes color. So far so good, it works well. The problem is how much I have more than one item in the same room.
Watch the video for you to understand better:
Note that in the third room, I have two important items, but when I get the first item and access the map, it already changes color, which shouldn't happen.
My code basically looks like this: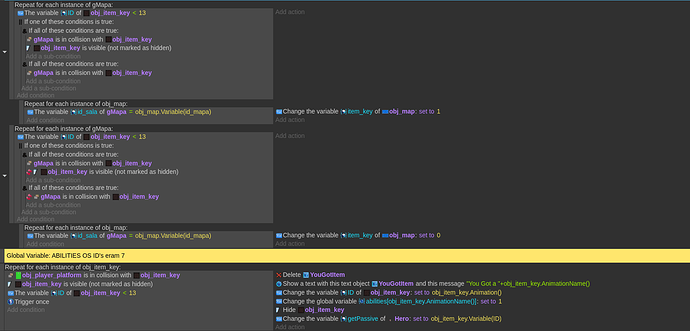 Legend of my objects:
gMap = Game Rooms
obj_map = game map
Basically what the code does is: It checks if there are items in the room, if so, the map with the ID equal to the room will receive variable 1 that says to change color.
obs: I don't delete the items from the room, I just hide them, I have a purpose for that!