I think Yarn hates me, or I'm stupid, because I've ran into another problem that I haven't seen a solution to anywhere.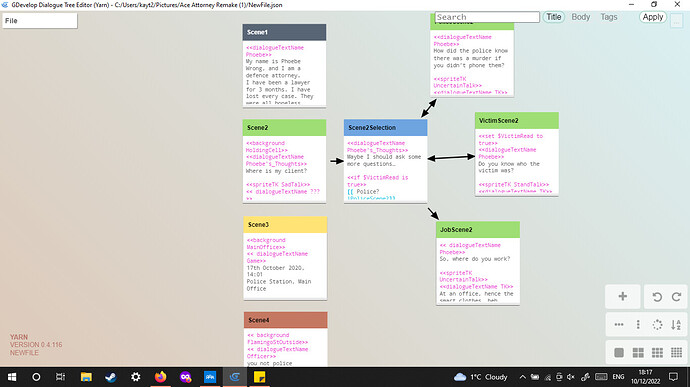 As an explanation as to what the hell is going on here, Scene 1 runs over to scene 2 with the dialogue state variable thing just fine. Scene 2 runs and when options are presented, it goes to the Selection scene (so the entire dialogue doesn't repeat as you flick back and forth between options.) When you eventually pick the Job option, the dialogue runs as normal. But when it ends, it doesn't go onto scene 3, though the dialogue state variable is at the correct number. Nothing problematic is in Scene 3, I don't think. There is the dialogueTextName command which should work as it does in every other scene, and there is a spriteVal command, which has the same coding as my other sprite which displays in Scene 2, so it should also work. I can't think of what the problem is. Other screenshots that may help below: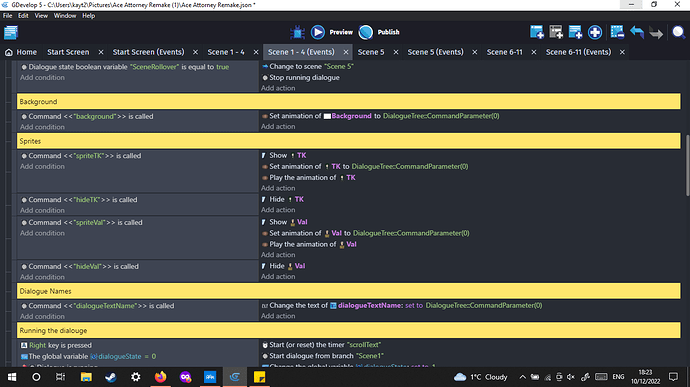 I feel like such an idiot for posting here so often, but I'm not very good with Yarn yet, so the obvious flies over my head right now. Any help is appreciated!