Ahoy,
Disclaimer: I have very little developer experience, so I'm not even sure if this is possible with the way GDevelop works.
I'm currently working on a medium sized project, and have had some thoughts about ways which could make the project more efficient for organisation within the editor itself. One of those thoughts, would be to have the ability to structure objects, similar in the way that variable structures are currently made. I've seen a few forum posts requesting or asking how-to make parent/child relationships between objects, but the solutions can be unintuitive compared to what many other engines offer out-of-the-box in their own editors.
The idea is that this could allow a parent object to have one or more child objects which would remain pinned to the position and rotation of the parent. Currently, pinning objects is a manual process done usually through multiple events, which can become cumbersome if required on many objects.
For example I have an external layout for my player object. This includes an object for control and collision detection (hitbox sprite), an object for animations, weapon sprites, and others (trail sprites, shadow sprites) etc which all follow the player object.
Currently, I need to have events that updates the position of all these objects every frame to follow the hitbox object.
Additionally, all these sprites take up a large portion of space in the scene editor, and when each main object, like enemies, NPC's etc have multiple objects associated with them, it can make the scene editor very cluttered. I do use tags to filter objects, but this is a manual process of assigning tags to every single object created, and like all manual processes, can be prone to error.
An idea I have had, is to make children of a structured object be hidden, unless uncollapsed by a ui-button, like the mock-up I have made below.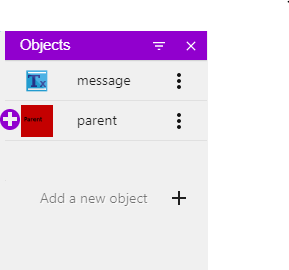 TLDR Proposal:
Ability to make an object into a structured object, similar to a variable structure
Child objects inherit positional data from their parent, and can be offset in the editor
Have child objects hidden/viewable via a toggle to help with organisation
Can avoid cluttering eventsheets with events that pin objects to another
I would love to hear thoughts, ideas on this, and whether or not it is something worth investigating further, or if I should just keep quiet