So I've been following the suggested tutorial example with the dialogue functions and yarn. What I have is slightly different since I'm kind of figuring it out as I go but what I have is the exact same outside of some substituted functions I am using to call it.
Basically the main issue I am having is that it does not stop after a line. I have 5 lines of text and I want it to progress each line from the push of a button like the example does. It will expect a button press on the first line, but only the very first time. After that when ever you speak to them it jumps through it all on it's own. I can get it to progress line by line if I set the "Go to next dialogue" gamepad button as 'pressed' instead of 'released' but it will only work up to the final line; where it will close the window on it's own once it reaches the final character. In this instance it will always require 4 button presses though, its only the final line that won;t.
Here's how the code looks: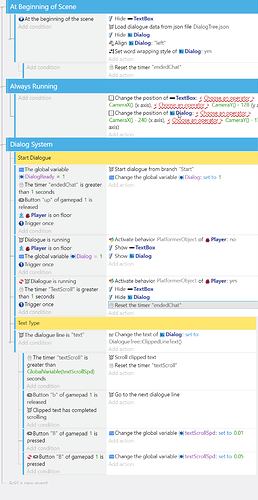 So I have the global variable DialogReady as something that turns on when you are in collision with something you can talk to. This turns off and switches to the Dialog variable while the dialogue is running.
I also have the same textScrollSPD variable as the example which is set to .05.
Does anyone have any idea why it might speed through the dialogue despite being so similar? I've been racking my brain for a few days on this and just can't figure it out.