How do I…
For my game, I am attempting to have procedural generation where after the player reaches a certain height, another pre-made section of the map loads above the previous one.
What is the expected result
When running the game, an event will look for how close the player is to the Top_Checker object. If the player gets close enough to the Top Checker object, I want a premade section to load in where the Top Checker object is located and will continue to load one pre-made section directly on top of the next one.
What is the actual result
When running the game, the different sections generate going down instead of up. I followed this tutorial when setting up the procedural generation but I would like the sections to generate above the player instead of below. I'm wondering if the issue has something to do with the Y value of when the Top Checker object is compared with the player character (ChiChiTheBird) but I have no idea what could be causing it. Any help would be greatly appreciated!
Tutorial I followed: https://www.youtube.com/watch?v=OzjEQTEQwFg&t=66s
Related screenshots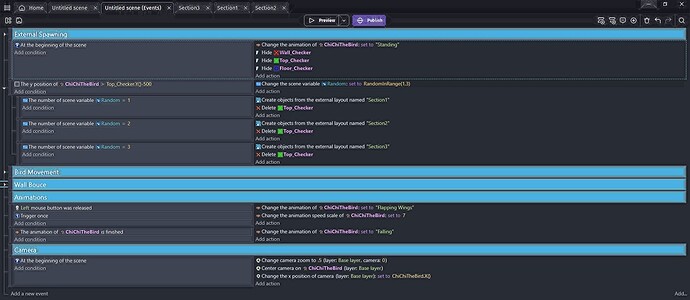 Project files (optional)
Insert a minimal game showing your issue in a .zip or .rar.