https://wiki.gdevelop.io/gdevelop5/objects/tilemap/#handle-collisions
Since tilemaps are still a semi-experimental feature, I've been wanting to hold off mapping for my game, but now I'm reaching the point where I want to be able to make my maps as well. Given it's both my favorite editor and the only one that supports collisions, I use Tiled. The process is actually very simple and feels complete as described by that article, but there's one thing I'm bound to have an issue with.
Is it possible to have collisions on diagonal surface? The collision mask appears to be automatically generated using the class of tiles, which is a great approach but won't handle non-straight surfaces. I worry this may be a limitation with no workaround, but just in case I wanted to ask.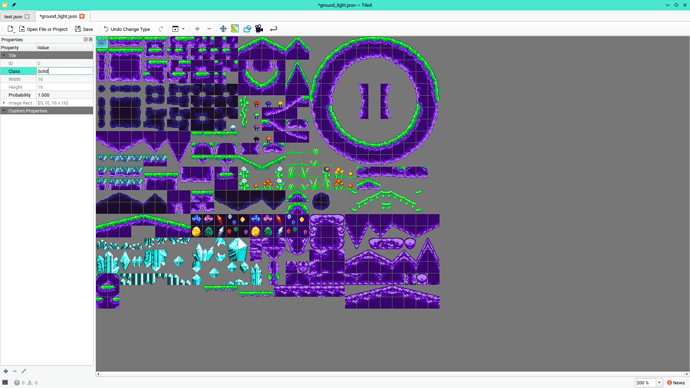 This for instance has a lot of diagonals and a circular set: I don't expect the round parts to collide on their own, but was hoping at least 45* or 22.5* surfaces could work out-of-the-box somehow.
At very worst if I really need to, I may use a rotated box sprite for such collisions… I really don't want to as using two collision systems feels like an ugly hack. Same as using just boxes, I'd rather every edit done to my map in Tiled is applied automatically in GDevelop without me having to move everything.