Hello people,
I'm trying to make a behavior and one of the events is using "inverted point inside".
The problem is: it works only when in the scene have only one "Chao". If I put two or more instances of Chao my object stops answer correctly when the point is not more inside of chao and don't flip and starts the moviment to another side.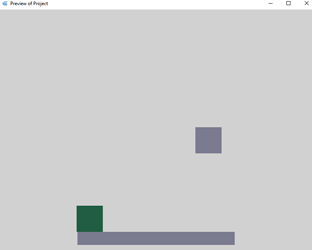 Gray object: Chao
Green object: Object with behavior.
I find it: [Solved] Inverted "point inside object" condition not working as expected - How do I…? - GDevelop Forum (gdevelop-app.com)
Tried what Bouh said, but don't works. Probably I'm doing something wrong.
EDIT: I changed the image of code to another with all code. With Colision condition the Object stay in movement. Now he stops only when i try to put chao on the side of the other.