Hi, so I want to request a great addition to the engine (In my opinion). That is multiple masks to an object. I know that you can already have multiple masks to an object. Want I mean is those mask can be used individually. Like, I can have two mask to an object called "Mask1" and "Mask2" and I can check if "Mask1" is colliding with another object and vice versa. So, for example if I want to check if a object is colliding with it from a specific side, I won't have to do this: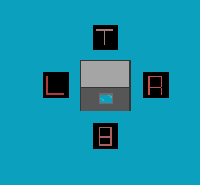 I can just make masks that I can use instead of having to create objects on all sides.
The masks should have another option, that is to change if that mask should be included in the hitbox of the object. Like, if the hitbox option is opted in, it will be included in the hitbox. Otherwise, the mask would be abstract and can only be used to check the collision with another object.
To make it more clear here is a representation:
The masks can have different names that can be used in a function to check the collision
the masks should have two options, Hitbox and collision mask
- A hitbox will be included in the object's hitbox
- A collision mask will be abstract and won't be included in the object's hitbox
- Both types of mask can be used to check the collision
This can be helpful in many projects, like if you are making a car AI for your game and want to check if player is near the door, you would need to make a object attached to a point and check if that is colliding with the player. And it is another story of deleting that object when the car is deleted. Instead with this, you can just have a collision mask (that is abstract) at the door named "Door" and check if player is collision with mask called "Door" and you won't need to worry about anything.
Thanks for reading, have a nice day